Course #:PMPM-195-RU
Duration: 1 Day
Price: 600,00 EUR
IBM Employees receive a 20% discount on all purchases
GSA Public Price: ??gsa-public-price??
GSA Private/Onsite Price: ??gsa-private-price??
For GSA pricing, go to GSA Advantage! Delivery Formats
Material: LearnGreen (pdf)
View our Global Training Schedule
Classroom Schedule
Virtual Schedule
Close
There are no virtual classes on the schedule in your country. There are no public classes currently scheduled in your country.
View our global class schedule
This course is available in private, mentoring or e-learning options.

Complete this form, and a Training Advisor will be in touch with you shortly to address your training needs.
By submitting this form, I agree to LearnQuest's Terms and Conditions
View our Global Training Schedule
??elearning-section??
Request Private Training
Close
Tell us a little about yourself:
By submitting this form, I agree to LearnQuest's Terms and Conditions
All Courses Backed by the LearnQuest 100% Satisfaction Guarantee
---
Course Description
In a rapidly changing marketplace, executives must employ everything at their disposal to achieve business results. One of the tools at your disposal is the power of effective project management. Effective project management is much more than low level tools. Instead it is a combination of consistent, repeatable processes and best practices that are vital to increased success rates for all projects. Unless an organization can produce predictable results, time after time, it stands to lose a great deal more than money. Excellence in project management can guarantee the desired results. (Executive Guide to Project Management published by PMI, ©2006)

Project Management for Executives provides executives and project sponsors with an understanding of project management that goes beyond the basic tools involved. This course focuses on the sponsor or executive's role in project success.

7 Professional Development Units from the Project Management Institute®

Objectives
Upon completion of the Project Management for Executives course, students will be able to:
Discover project management that goes beyond the basic tools involved
Focus on the sponsor or executive's role in project success
Audience
Senior Managers and Directors
Project Sponsors
Corporate Executives
Anyone interested in project management from an enterprise perspective
Topics
Overview
What is a project?
Project Management Processes vs. Solution Development Lifecycle
The connection between the corporation strategy and project initiation
The Project Manager Role
Who is the project sponsor?

Common mistakes of the sponsor
What do project managers want from executives?

The PMBOK and what it means to executives

The Triple Constraint and Nine Knowledge Areas of Project Management
What does it mean to adopt project management in your organization?
Initiate
Discuss why initiation is so critical to project success
Project Charter Development
Aligning projects to the corporate goals and mission
Scope Statement Development
Practical Application Session – Analyze a project scope and the corresponding system request to see the difference between charter and scope.
Plan
Key planning components for the project sponsor
Myths of project management and planning
Understanding the schedule
Communications Planning
Risk planning and management
Practical Application Session – Conduct a small project
Execution/Control/Close
Scope Control
The Triple Constraint and Project Control
Project Communications
Closing projects and lessons learned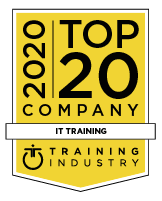 Reviews
---

We Guarantee You'll be Satisfied
At LearnQuest, our goal is always the same: to provide the highest quality training and service to each and every customer.
If you're not satisfied for any reason, simply contact one of our Training Advisors for assistance with your concerns.

Enrollment Options
Select the Training Provider you would like to use
Already have an account? Login here >

You will be leaving the LearnQuest Website
*If using Apple Training Credits or LearnPass, you must enroll with LearnQuest