IBM and LearnQuest Digital Badge Program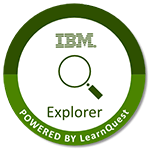 LearnQuest is working together with IBM to offer IBM training courses and award digital badges upon successful completion and attainment of course objectives.
A digital 'badge' is an online industry-wide recognizable form of achievement. Badges indicate knowledge and skills acquired, active role in communities, contributions to the field, excellence in specific areas of technology and other individual accomplishments. Badging easily and quickly shares verified proof of your achievement.
Learn more.
Guaranteed to Run classes
Enroll with confidence. Plan with peace of mind
Our dedication to ensuring 100% client satisfaction is LearnQuest's number one priority. We value your time and understand that having certainty in training dates allows you to plan your business priorities effectively. LearnQuest's GTR schedule enables you to manage your training around your organizations' requirements with confidence.
View all Guaranteed to Run classes here.
Upcoming GTR Classes
LearnQuest Success Stories
Read success story submissions from LearnQuest for 2015 IBM Choice Awards for Training Provider of the Year.