title
Date: xxx
Location: xxx
Time: xxx
Price: xxx
Please take a moment to fill out this form. We will get back to you as soon as possible.
All fields marked with an asterisk (*) are mandatory.
Project Management Training Courses
Improve your project management skills and be better equipped to plan, execute, and deliver successful projects. Whether you're new to project management or an experienced professional, our training courses offer a convenient and effective way to learn and advance your career.

Browse All Topics
Expand your project management skillset with our comprehensive catalog spanning fundamental to advanced project management principles. Learn how to master project scope, time, cost, quality, risk, communications, and procurement. Gain insights into critical methodologies like Waterfall, Agile, Scrum, and hybrid approaches. Prepare for certifications such as PMP, CAPM, and PMI-ACP.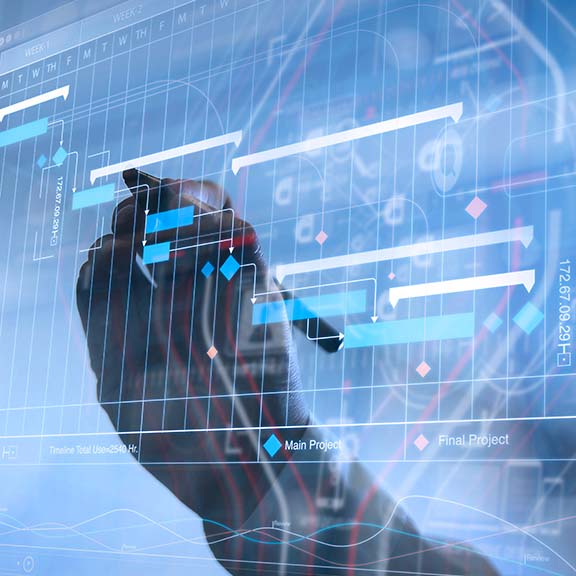 What is Project Management?
Project Management is a systematic approach to planning, organizing, and guiding project processes from start to finish. It involves defining the project's goals and objectives, determining how the goals will be achieved, identifying what resources are needed, and associating budgets and timelines for completion. It also includes managing the implementation of the project plan, along with operating regular 'controls' to ensure that there is accurate and objective information on 'performance' relative to the plan, and the mechanisms to implement recovery actions where necessary.
Projects differ from regular business activities and require focused teamwork to meet specific objectives. Project management oversees these tasks, with the approach varying based on numerous factors.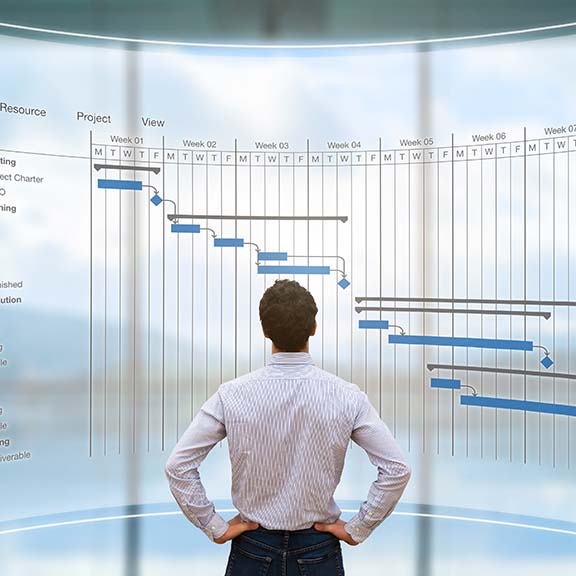 Discover the Benefits of Project Management
Improved Efficiency

Project management offers a clear path to completion, optimizing resource use and time.

Enhanced Customer Satisfaction

Timely, quality outputs increase customer satisfaction and repeat business.

Risk Management

Early risk identification and mitigation strategies reduce project disruptions.

Increased Quality and Quantity of Deliverables

Well-managed projects yield higher quality outputs and more deliverables within the set timeline.
Boosting Business Efficiency with Project Management Training
Project Management Training enhances business efficiency by providing the skills needed for effective project management, leading to increased productivity and profitability. It covers key project management aspects and emphasizes communication and teamwork.
This training is ideal for anyone involved in project work, including project managers, team leaders, and project team members. It's also beneficial for executives and managers overseeing projects and individuals seeking to expand their skills for future opportunities and maximize their potential for success.
Want to boost your business efficiency with Project Management training? Reach out to us today!
Contact Us For A Free Consultation
Free Project Management Training Resources
Learn more about Project Management by exploring our extensive library of free articles, webinars, white papers, and case studies.
Frequently Asked Questions
What project management certifications do you offer prep for?

We offer prep for PMP, CAPM, PMI-ACP, PSPO, CSPO, CSM, and SAFe certifications.

What methodologies do your courses teach?

We teach traditional project management, Agile, Scrum, Lean, hybrid approaches, and frameworks like SAFe.

What formats are the courses offered in?

We offer classroom, virtual instructor-led, and self-paced online courses.

What experience levels do you accommodate?

We have introductory through advanced courses for all PM experience levels.

Can the training be customized?

Yes, we offer customized training tailored to your organization's needs.
Need more Information?
Speak with our training specialists to continue your learning journey.
Talk to our team