Course #: ESC8GAU
Duration: 24 Hours
Price: 3,900.00 AUD
Prices reflect a 20% discount for IBM employees
GSA Public Price: ??gsa-public-price??
GSA Private/Onsite Price: ??gsa-private-price??
For GSA pricing, go to GSA Advantage! Delivery Formats
Material: LearnGreen (pdf)
View our Global Training Schedule
Classroom Schedule
Virtual Schedule
Close
There are no virtual classes on the schedule in your country. There are no public classes currently scheduled in your country.
View our global class schedule
This course is available in private, mentoring or e-learning options.

Complete this form, and a Training Advisor will be in touch with you shortly to address your training needs.
By submitting this form, I agree to LearnQuest's Terms and Conditions
View our Global Training Schedule
??elearning-section??
Request Private Training
Close
Tell us a little about yourself:
By submitting this form, I agree to LearnQuest's Terms and Conditions
All Courses Backed by the LearnQuest 100% Satisfaction Guarantee
---
Course Description
This course is designed to teach students the new features and enhanced functions provided in z/OS Version 2 Release 3. The software updates and enhancements for z/OS V2R3 are presented in groups based on closely associated z/OS components. The groups include enhancements to the base control program, sysplex features, UNIX System Services, the data storage subsystem, Communications Server, and security components, such as RACF.
Finally, the installation and migration issues relating to installation of z/OS V2.3 are discussed.
Objectives
List the main enhancements in z/OS V2R3.
Describe and implement, where necessary, the other enhancements packaged with z/OS V2.3 including:
The BCP includes the I/O configuration program (IOCP), the Workload Manager (WLM), System Management Facilities (SMF), HCD/HCM, the program management binder, Language Environment, Global resource serialization, z/OS sysplex, cross-system coupling facility (XCF), Coupling Facility Resource Manager (CFRM), SFM, System Logger and other components like BCPii, z/OS Resource Measurement Facility (RMF) and z/OS Job Entry Subsystem 2 (JES2), JES3, SDSF, z/OS Interactive System Productivity Facility (ISPF), time-sharing option (TSO), REXX.
The z/OS Management Facility (zOSMF).

The USS kernel, USS shell, and related file system services.

Data storage management which includes Extended Address Volumes, DFSMSdfp, DFSMSdss, and DFSMShsm.

Communications Server which includes features of the TCP/IP address space, general IP, and SNA modernization.

System security - RACF.

Plan for and install the z/OS V2.3 system.
Audience
This course is intended for system programmers and subsystem administrators responsible for installing and implementing z/OS V2.3 in their enterprise.
Prerequisites
Knowledge of z/OS at the level of a z/OS system programmer, acquired on the job or through the z/OS curriculum
Warning: This class only covers changes packaged in z/OS V2.3 and expects students to be familiar with the contents of the z/OS V2R2 and previous system upgrades. For students who have knowledge or experience based on lower levels of z/OS, you should first attend:
ESC6G: z/OS V1R13 to z/OS V2R1 Update (which brings skill level up to z/OS V2R1)

ESC7G: z/OS 2.2 Update (which brings skill level up to z/OS V2R2)
Topics
z/OS V2R3 overview

Enhancements to the BCP

Sysplex enhancements

Data management enhancements

UNIX System Services enhancements (USS)

Communication Server enhancements

System security and RACF enhancements

Installation and migration of z/OS 2.3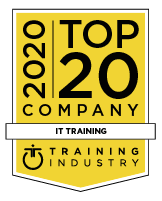 Reviews
---

We Guarantee You'll be Satisfied
At LearnQuest, our goal is always the same: to provide the highest quality training and service to each and every customer.
If you're not satisfied for any reason, simply contact one of our Training Advisors for assistance with your concerns.

Enrollment Options
Select the Training Provider you would like to use
Already have an account? Login here >

You will be leaving the LearnQuest Website
*If using Apple Training Credits or LearnPass, you must enroll with LearnQuest