IBM and LearnQuest Badge Program - Power Systems
LearnQuest is working together with IBM to offer IBM training courses and award digital badges upon successful completion and attainment of course objectives.
IBM Badge Courses Power Systems Series offered by LearnQuest: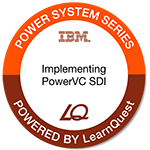 This badge holder can implement a PowerVM infrastructure with software-defined storage based on IBM Spectrum Scale using NovaLink in SDE-mode, and software-defined networking based on Open vSwitch (OVS). This badge earner also knows methods for capturing, deploying, and managing virtual machines in a software defined infrastructure.
Click here for course objectives.
Badge Criteria and Activities
Badge earners have successfully achieved class objectives demonstrated by progress in lab exercises, attendance, participation in question & answer sessions, and/or assessments associated with:

Prepare Power Systems servers for SDI using PowerVC SDI
Install&configure a NovaLink SDE-mode partition on a Power Systems server
Install IBM Spectrum Scale in existing PowerVC instance to create an SDI environment
Enable VxLAN overlay network&define it into PowerVC
Manage an SDE-mode NovaLink server
Recommended next steps:

Evidence:
---