IBM and LearnQuest Badge Program - Tivoli
LearnQuest is working together with IBM to offer IBM training courses and award digital badges upon successful completion and attainment of course objectives.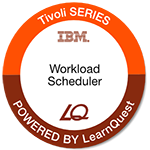 This badge holder can manage batch workloads in z/OS with IBM Tivoli Workload Scheduler. They can schedule definitions and perform operational tasks that require an understanding of the end-to-end environment. The recipient has created and implemented planning objects such as workstations, applications, calendars, and resources. Badge earners are able to schedule these objects into a daily planning cycle, monitor and manage them.
Click here for course objectives.
Badge earners have successfully achieved class objectives demonstrated by student progress in lab exercises, attendance, participation in question and answer sessions and/or assessments associated with the following topics:
Creating scheduling objects, Long Term & Current plans, special resources, and Application Descriptions containing multiple operations
Managing critical batch, restart & cleanup
Automating recovery statements in JCL
Controlling unscheduled batches
Recommended next steps: