Course #:LAG-COG-v1
Duration: 3 Days
Price: 2 120,00 EUR
IBM Employees receive a 20% discount on all purchases
GSA Public Price: ??gsa-public-price??
GSA Private/Onsite Price: ??gsa-private-price??
For GSA pricing, go to GSA Advantage! Delivery Formats
Material: LearnGreen (pdf)
View our Global Training Schedule
Classroom Schedule
Virtual Schedule
Close
There are no virtual classes on the schedule in your country. There are no public classes currently scheduled in your country.
View our global class schedule
This course is available in private, mentoring or e-learning options.

Complete this form, and a Training Advisor will be in touch with you shortly to address your training needs.
By submitting this form, I agree to LearnQuest's Terms and Conditions
View our Global Training Schedule
??elearning-section??
Request Private Training
Close
Tell us a little about yourself:
By submitting this form, I agree to LearnQuest's Terms and Conditions
All Courses Backed by the LearnQuest 100% Satisfaction Guarantee
---
Course Description
This BM Cognos Analytics - Author Reports Essentials and Advanced course is designed to provide professional report authors an opportunity to learn report building techniques using relational data models. Techniques to enhance, customize, and manage professional reports will be explored. Demonstrations and exercises will illustrate and reinforce key concepts during this learning opportunity. This course also teaches Professional Report Authors about advanced report building techniques using relational data models, and ways of enhancing, customizing, and managing professional reports.

The course builds on topics presented in the Fundamentals course. Attendees will participate in interactive demonstrations and exercises that illustrate key concepts while learning how to use advanced features in the product builds on topics learned in the Fundamentals course.



Prerequisites
Experience using the Windows operating system
Experience using a Web browser
Topics
B6058G: Unit 1 - Introduction to the Reporting Application
Examine Author Reports and its interface
Explore different report types
Create a simple, sorted, and formatted report
Explore how data items are added queries
Unit 2 - Create List Reports
Format, group, and sort list reports
Describe options for aggregating data
Create a multi-fact query
Create a report with repeated data
Unit 3 - Focus Reports Using Filters
Create filters to narrow the focus of reports
Examine detail and summary filters
Determine when to apply filters on aggregated data
Unit 4 - Create Corsstab Reports
Format and sort crosstab reports
Convert a list to a crosstab
Create crosstabs using unrelated data items
Unit 5 - Present Data Graphically
Create charts containing peer and nested columns
Present data using different chart type options
Add context to charts
Create and reuse custom chart palettes
Introduction to visualization
Present key data in a single dashboard report
Unit 6 - Focus Reports Using Prompts
Identified various prompt types
Use parameters and prompts to focus data
Search for prompt types
Navigate between pages
Unit 7 - Extend Reports Using Calculations
Create expressions using functions
Add run-time information to the reports
Create expressions using functions
Unit 8 - Use Additional Report Building Techniques
Enhance report design with report objects
Reuse objects within the same report
Share layout components among separate reports
Discuss report templates
Choose options to handle reports with no available data
Unit 9 - Customize Conditional Formatting
Create multi-lingual reports
Highlight exceptional data
Show and hide data
Conditionally render objects in reports
Conditionally format one crosstab measure based on another
Unit 10 - Drill-Through from One Report to Another
Let users navigate from a specific report to a target report
Pass parameter values to filter the data in drill-through targets
Navigate through multiple reports
Unit 11 - Drill Through Definitions
Discuss parameter-driven drill through
Discuss dynamic drill through
Setup package-based drill through definitions
Step scope
Use the Drill-Through Assistant
Unit 12 - Enhance Report Layout
Force page breaks in reports
Modify existing reports structures
Apply horizontal formatting
Specify print options for PDF reports
Format data and report objects
Appendix A - Overview of IBM Cognos Analytics (Shared module)
Describe IBM Cognos Analytics and Financial Performance Management (FPM)
Describe IBM Cognos Analytics components
Describe IBM Cognos architecture at a high level
Define IBM Cognos groups and roles
Explain how to extend IBM Cognos Analytics
B6059G: 1: Unit 1 Create query models
Build query models and then connect them to the report layout
Edit an SQL statement to author custom queries
Add filters and prompts to a report using the query models
2: Unit 2 Create reports based on query relationships
Create reports by joining queries
Combine data containers based on relationships from different queries
3: Unit 3 Create advanced dynamic reports
Filter reports on session parameter values
Navigate a briefing book using a table of contents
Create dynamic headers and titles that reflect report data
Create a customer invoice report
4: Unit 4 Design Effective Prompts
Control report displays using prompts
Specify conditional formatting values using prompts
Specify conditional rendering of objects based on prompt selection
Create sorted and filtered reports based on prompt selection
5: Unit 5 Create additional advanced reports
Create a report that displays summarized data before detailed data
Highlight alternate rows in a list report
Create a report using an external data file
Use single data items to summarize report information
Create a report with tabbed pages. - New
6: Unit 6 Examine the report specification
Examine the report specification structure
Save and edit reports locally
Discuss considerations for modifying a report specification
Discuss adding custom toolbox objects and custom template options
7: Unit 7 Distribute reports through bursting
Distribute reports using bursting
Create burst keys
Identify report recipients and data items using burst tables
Distribute reports using email and the IBM Cognos Analytics portal
8: Unit 8 Enhance user interaction with HTML
Create tooltips that clarify report data
Create a popup window that contains prompts
Send emails using links in a report
9: Unit 9 - End-to-end workshop
Report 1: Burst a sales report by country
Report 2: Create a report letting users choose top and bottom number of product types
Report 3: Let users choose a chart type to display with a crosstab
Appendix A - Explore the Prompt API (Optional)
Describe the Prompt API
Describe the uses of the Prompt API
Describe the primary objects, methods and properties used in the Prompt API
Review prompt values
Explore the enhancement of prompts in reports with the Prompt API Unit 2 - Create List Reports
Related Courses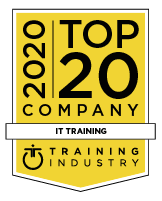 Reviews
---

We Guarantee You'll be Satisfied
At LearnQuest, our goal is always the same: to provide the highest quality training and service to each and every customer.
If you're not satisfied for any reason, simply contact one of our Training Advisors for assistance with your concerns.

Enrollment Options
Select the Training Provider you would like to use
Already have an account? Login here >

You will be leaving the LearnQuest Website
*If using Apple Training Credits or LearnPass, you must enroll with LearnQuest