Course #: EJJF-630
Duration: 5 Days
Price: 2,925.00 USD
Prices reflect a 20% discount for IBM employees
GSA Public Price: ??gsa-public-price??
GSA Private/Onsite Price: ??gsa-private-price??
For GSA pricing, go to GSA Advantage! Delivery Formats
Material: LearnGreen (pdf)
View our Global Training Schedule
Classroom Schedule
Virtual Schedule
Close
There are no virtual classes on the schedule in your country. There are no public classes currently scheduled in your country.
View our global class schedule
This course is available in private, mentoring or e-learning options.

Complete this form, and a Training Advisor will be in touch with you shortly to address your training needs.
By submitting this form, I agree to LearnQuest's Terms and Conditions
View our Global Training Schedule
??elearning-section??
Request Private Training
Close
Tell us a little about yourself:
By submitting this form, I agree to LearnQuest's Terms and Conditions
All Courses Backed by the LearnQuest 100% Satisfaction Guarantee
---
Course Description
This course is designed to allow software developers to become productive using Servlets and JavaServer Pages (JSP), the foundation of Web application development in JEE. Students will be taught using classroom based instruction and comprehensive practical exercises designed to explain the fundamentals of JEE Web application development.
Using the MyEclipse IDE, students will rapidly negotiate the learning curve and be ready to write, package and deploy Web applications to a production WebSphere environment.
This course is one step in the following Learning Journey:
Objectives
Upon completion of the Servlets and JSP course, students will be able to:
Describe the fundamental principles of the JEE Web Container in WebSphere
Employ the Servlet 2.4 API to produce code to meet any web development requirement
Manage sessions across an HTTP connection
Apply the fundamentals of JavaServer Pages
Build and apply custom JSP tags
Apply Spring MVC to a web based solution
Audience
Application Developers
Java Programmers
Client Server Programmers
Software Developers
Prerequisites
Understand the fundamentals of Object-Orientation
Understand the language fundamentals and core APIs of the Java 2 Standard Edition (J2SE)
Topics
Introduction to JEE
JEE definition
JEE history
Applications on the web
Creating an application
Creating source code
application.xml
web.xml
Application deployment
XML in JEE
Introduction to Programming Servlets
Servlets and the web container
init()
service()
destroy()
HttpServlet
doGet()
doPost()
Additional handling methods
Additional methods
Servlets and performance
Servlets and threading
Consequences of threading
Configuring a servlet for deployment
Servlet entry in web.xml
URL mappings
ServletContext and SrvletConfig
ServletContext interface
Initialization parameters
Scope of a ServletContext interface
Context attributes
Multiple hosts and servlet contexts
ServletConfig
Request and Response Objects
The request object
getParameter
Other request object methods
Request path elements
Path translation methods
Attributes
Cookies
Lifetime of the request object
The response object
Buffering
Headers
Convenience methods
Lifetime of the response object
Sessions
Definition
How sessions work
Cookies
Cookies and sessions
URL rewriting
Using sessions with J2EE
Using getSession
Session Timeout
Binding attributes into a session
Last accessed times
Sessions and threading
Threads and clusters
Dispatching Requests
Obtaining a request dispatcher
Query strings in request dispatcher paths
Using a request dispatcher
The include method
Included request parameters
The forward method
Query string
Forwarded request parameters
Listeners
Definition
ServletContext event handling
Working with the interfaces
ServletContext creation/destruction
ServletContext event handling
ServletContext listeners
Attribute
XML for context attribute listeners
Handling session events
Session life-cycle event handling
HttpSessionEvent
HttpSessionBindingListener
HttpSessionBindingEvent
HttpSessionActivationListener
Session attribute event handling
Session attribute interfaces
Wrappers
Filters
Definition
Filtering components
Basic procedure
Filter life-cycle
Wrapping requests and responses
Filter environment
Filter mapping in web.xml
Filters and the RequestDispatcher
Introduction to JSP
Introduction
Adding Java code to a JSP
JSP implicit objects
Using request and out
Using the session object
Other elements of a JSP
Declarations
Directives
JSP expression language
Standard action tags
Custom action tags
JSP Declarations and Directives
Declarations
Invoking declarations
Attributes and methods
Directives
Directive syntax
The include directive
The page directive
page directive attributes
page attributes
The taglib directive
Using Beans - Accessing JavaBeans Via Tags
Introduction
Specifying a bean to use
useBean : id and class
useBean : scope, type and beanName
getProperty
useBean with child tags
setProperty
setProperty : value
setProperty : property and param
Mapping properties to a new bean
Mapping parameters to attributes
Data conversions when mapping parameters
Error Handling
Introduction
Run-time errors
Using error pages
Using JSPs as error pages
JSP Expressive Language (EL)
Introduction
EL Values

pageContext
The scope expression
pageScope
requestScope
sessionScope
The paramExpression

Working with maps
Working with lists
EL operations

Arithmetic
Unary
Comparative
Choice expressions
Tag Files
Introduction
Including tag files
Passing attributes to a tag file
The attribute directive
The doBody tag
Returning data
Storing tag files in a JAR
The tag file TLD
Using the JAR
JSP Standard Tag Library
Installing JSTL
Syntax
Online documentation
The core library

out tag
if tag
choose, when and otherwise
forEach
forTokens
import
import and param
import and scope
url
url and scope
set and remove

Setting a variable
Working with JavaBeans
catch
The functions library

contains
join and split
split
join
escapeXml

The xml library

Loading and parsing a file
Using XPath
XPath functions
out tag
foreach tag
transform tag
param tag
the if tag
the choose tag
set tag

The fmt library

the locale and bundle tags
Creating a bundle in a Properties
files
setLocale tag
setBundle tag
formatMessage tag

Using Java classes as bundles
Dates and numbers
The sql library
Custom Tags
Introduction
Tag handlers prior to v 2.0

doStart tag
JSP 2.0
Creating attributes

Processing body data
Creating the TLD file
Creating the TLD file – adding tags
The body-content tag
A complete TLD file – v 2.0
A complete TLD file – v 1.2
Discovering TLD files
Using TLD files
Java Class
Spring MVC
Introduction to Spring MVC
Configuring the Spring MVC Dispatcher Servlet
Controllers
Handler mappings
Views and view resolvers
Exception handling
Annotations for configuring controllers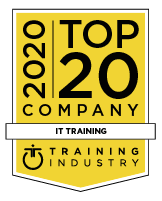 Reviews
---

We Guarantee You'll be Satisfied
At LearnQuest, our goal is always the same: to provide the highest quality training and service to each and every customer.
If you're not satisfied for any reason, simply contact one of our Training Advisors for assistance with your concerns.

Enrollment Options
Select the Training Provider you would like to use
Already have an account? Login here >


You will be leaving the LearnQuest Website
*If using Apple Training Credits or LearnPass, you must enroll with LearnQuest