Free Consultation
Meet with a training consultant to learn more about LearnQuest training solutions.
or call 877-206-0106
From purchase, implementation, and ongoing maintenance, SAM processes help balance the number of software licenses purchased with the number of licenses used. The IAITAM® Certified Software Asset Manager ("CSAM") course provides a foundation for managing software assets, as well as knowledge of the ever-changing variables that occur within the field.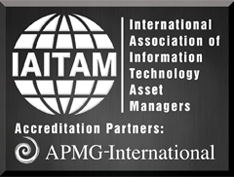 ---
Reasons to Get Started w/ IT Asset Management:
Take control of your assets
Avoid expensive audits
Good course structure and well processed materials
Maximize the value of your IT assets by balancing purchases and actual deployment; defining processes and best practices
Gain professional recognition
Gain awareness of existing software regulations
Benefits of our Certified Software Asset Manager course:
IAITAM Certified Course
Ready to take the CSAM certification exams after completing
APMG Accredited Training Organization
Showcase your achievements with a IAITAM CSAM Badge
---
Free series of ITAM Webinars:
Learn how a solid IT asset management program can help reduce risk to your company
An Upcoming Webinar: The Whys and Whats of IT Asset Management
The Whys and Whats of IT Asset Management | February 15, 2017
Some student comments:
"Great to have an experienced instructor with real life examples."
"Covered the subject in an organized, detailed fashion. Broke the discussion down into the 12 Key Process Areas, and then presented the concepts of each KPA in a way that will help me to understand and apply the concept in practice."
---
Discovery Questions
Where can I learn more about IAITAM and upcoming events?

What are the CSAM course prerequisites?
- This course is designed for those individuals with minimal to no experience in the field of Software Asset Management.
Acknowledgement Statement International Association of Information Technology Asset Managers, IAITAM, the IAITAM logo and iaitam.org are trademarks of the International Association of Information Technology Asset Managers, Inc. ('IAITAM, Inc.'), registered in many jurisdictions worldwide.
heres the new schedule