title
Date: xxx
Location: xxx
Time: xxx
Price: xxx
Please take a moment to fill out this form. We will get back to you as soon as possible.
All fields marked with an asterisk (*) are mandatory.
Agile Training Courses
Accelerate your knowledge of Agile software development, train various internal teams, and lead the entire enterprise in project success with our cutting-edge instructor-led and online Agile offerings, especially Agile Workshop, ScrumMaster Certification Course, and the Agile Bundle.

Browse All Topics
Browse our range of subtopics below. We offer detailed courses in Agile, Scrum, SAFe, and more. Select a subtopic to start learning.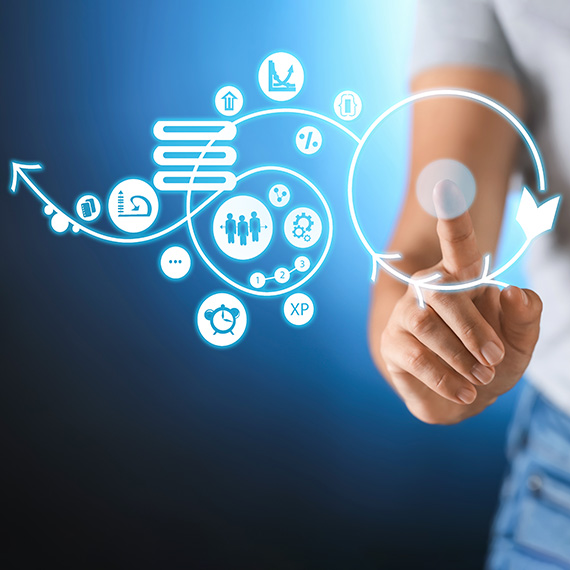 What is Agile?
The Agile technique emphasizes flexibility, cooperation, and customer satisfaction in project management and product development. It divides tasks into 'sprints' and often reassesses and adjusts plans. Iterative progress, continuous improvement, and direct communication between team members and stakeholders are promoted by Agile. For projects with unclear or frequently changing specifications, this strategy helps teams to adapt quickly and effectively to changes in needs or circumstances.
Agile builds the product or project progressively rather than all at once. Testing and reviewing throughout development helps identify and fix bugs faster using this incremental approach. With frequent feedback loops and tight cooperation, Agile stresses stakeholder participation. Stakeholder expectations and criteria are met to maximize value and consumer satisfaction.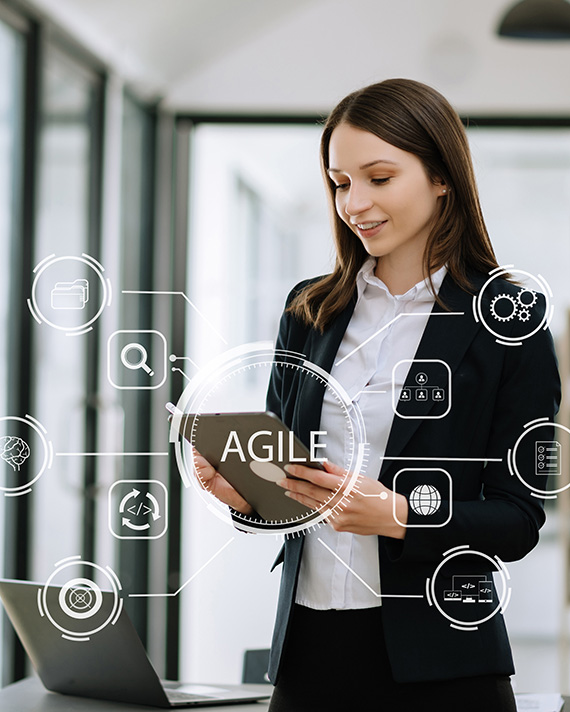 Discover the Benefits of Agile
Increased Customer Satisfaction

Agile development focuses on customer demands. Revisions and customer input ensure that the final product fulfills their expectations, increasing satisfaction.

Improved Product Quality

Agile development enables for frequent product inspections. Regular testing and evaluation help find and solve issues early, improving product quality.

Better Risk Management

Agile breaks down the project into smaller components, making risk management more detailed. This lets high-risk project areas be addressed early, simplifying forecasting and problem-solving.

Faster Time to Market

Agile development encourages incremental changes and quicker product releases. Businesses may gain advantages faster and adapt to market changes.
Boosting Business Efficiency with Agile Training
Agile training can significantly boost business efficiency by providing teams with the skills and knowledge to apply Agile processes properly. The training program is designed for various professionals, including project managers, software developers, product owners, business analysts, and anybody engaged in project development or management. By understanding and using Agile concepts, these professionals can streamline processes, improve product quality, and increase customer satisfaction, contributing to overall business efficiency.
In Agile training, participants learn to manage tasks, prioritize based on customer value, and adapt to changes efficiently. They're also taught to encourage a collaborative environment that promotes communication and feedback. This improves project delivery speed and quality and fosters a culture of continuous learning. As a result, Agile training helps businesses develop a more responsive and efficient approach to project management.
Want to boost your business efficiency with Agile training? Reach out to us today!
Contact Us For A Free Consultation
Free Agile Training Resources
Learn more about Agile by exploring our extensive library of free articles, webinars, white papers, and case studies.
Frequently Asked Questions
What is Agile?

Agile is a project management technique that emphasizes flexibility, collaboration, and customer satisfaction. It breaks down tasks into sprints and promotes iterative progress, continuous improvement, and direct communication between team members and stakeholders.

What are the benefits of Agile?

Benefits of Agile include increased customer satisfaction, improved product quality through ongoing testing, better risk management by addressing high-risk areas early, and faster time to market by releasing products incrementally.

How can Agile training boost business efficiency?

Agile training teaches teams skills to properly apply Agile processes, which can streamline workflows, improve product quality, increase customer satisfaction, and promote a culture of continuous learning and improvement. This boosts overall business efficiency.

Who can benefit from Agile training?

Agile training is designed for various professionals involved in project development and management, including project managers, software developers, product owners, business analysts, and more.

Where can I find free Agile training resources?

There are free Agile articles, webinars, white papers, and case studies available on the Resource Center section of the website. These cover topics like SAFe, DevOps, organizational agility, and app development.

What topics are covered in Agile training courses?

Agile training courses cover topics like managing tasks, prioritizing based on customer value, adapting to changes efficiently, encouraging collaboration and feedback, etc. Specific courses cover frameworks like Scrum, SAFe, and Lean.

How long does Agile training take?

Agile training lengths vary based on the specific course. Some are short overviews while more in-depth certifications can take multiple days of training. Blended learning options combine online and in-person training.

Does Agile training provide any certifications?

Yes, some Agile courses like the ScrumMaster Certification provide official certifications after completing training and passing an exam. These certifications validate your Agile knowledge.

Can Agile training be customized for my organization?

Yes, private and customized Agile training options are available for organizations. The training can be tailored to your specific needs and delivered in a format that works best for your team.
Need more Information?
Speak with our training specialists to continue your learning journey.
Talk to our team