Course #:CFLQ-145
Duration: 1.5 Days
Price: 1,530.00 USD
IBM Employees receive a 20% discount on all purchases
GSA Public Price: ??gsa-public-price??
GSA Private/Onsite Price: ??gsa-private-price??
For GSA pricing, go to GSA Advantage! Delivery Formats
Material: LearnGreen (pdf)
View our Global Training Schedule
Classroom Schedule
Virtual Schedule
Close
There are no virtual classes on the schedule in your country. There are no public classes currently scheduled in your country.
View our global class schedule
This course is available in private, mentoring or e-learning options.

Complete this form, and a Training Advisor will be in touch with you shortly to address your training needs.
By submitting this form, I agree to LearnQuest's Terms and Conditions
View our Global Training Schedule
??elearning-section??
Request Private Training
Close
Tell us a little about yourself:
By submitting this form, I agree to LearnQuest's Terms and Conditions
All Courses Backed by the LearnQuest 100% Satisfaction Guarantee
---
Course Description
This Teradata Designer course is designed to provide a highly interactive environment for Teradata users of all skill levels to learn how to design databases.

This course can be taught using Version 12, 13, or 14. Please inform your sales representative of which version you are currently using.

Objectives
Upon completion of the Teradata Designer course, students will be able to:
Explain the rules of data warehousing
Describe the application development life cycle
Model data
Define denormalization
Design Teradata databases
Audience
Teradata Users
IT Professionals
Topics
The Rules of Data Warehousing
Teradata facts
Teradata: brilliant by design
The Teradata parallel architecture
A logical view of the Teradata architecture
The Parsing Engine (PE)
The Access Module Processors (AMPs)
The BYNET
A visual for data layout
Teradata is a shared nothing architecture
Teradata has linear scalability
How Teradata handles data access
Teradata cabinets, nodes, Vprocs and disks
Data Distribution Explained
Rows and columns
The primary index
The two types of primary indexes
Unique Primary Index (UPI)
Non-Unique Primary Index
Turning the Primary Index Value into the row hash
The row hash value determines the rows destination
The row is delivered to the proper AMP
The AMP will add a uniqueness value
Teradata accesses data in three ways
Data layout summary
V2R5 Partition Primary Indexes
V2R4 example
V2R5 partitioning
Partitioning doesn't have to be part of the primary Index
Partition elimination can avoid full table scans
The bad news about partitioning on a column that is not part of the primary index
Two ways to handle partitioning on a column that is not part of the primary index
Partitioning with CASE_N
Partitioning with RANGE_N
NO CASE, NO RANGE, or UNKNOWN
Partitioning and joins
Teradata Space
How permanent space is calculated
How permanent space is given
The Teradata hierarchy
How spool space is calculated
A spool space example
PERM, SPOOL and TEMP space
Spool space controls system time
Spool reserve
Modeling the Data
The application development life cycle
Asking the right questions
Logical data model
Primary keys
Foreign keys
Normalization
A normalized data warehouse
Dimensional modeling
Data marts
Update applications
Extended Logical Data Model
The end goal of the ELDM is to build table templates
Column ACCESS in the WHERE clause
Data demographics
Distinct values
Typical rows per value
Maximum rows NULL
Change rating
Extended logical data model template
Denormalization
Derived data
Horizontal partitioning
Vertical partitioning
Multi-table join indexes
Temporary tables
Derived tables
Volatile temporary tables
Global temporary tables
Views
Secondary Indexes
Unique Secondary Index (USI)
USI subtable example
How Teradata retrieves an USI query
NUSI subtable example
How Teradata retrieves a NUSI query
Value-ordered NUSI
How Teradata retrieves a value-ordered NUSI query
NUSI bitmapping
Prototyping indexes with EXPLAIN
Chart for primary and secondary access
Secondary index summary
Join Strategies
A join in simple terms
The key things to know about Teradata and joins
Merge join strategies
Joins need the joined rows to be on the same AMP
Another great join picture
Joining tables with matching rows on different AMPs
Redistributing a table for join purposes
Big Table small table join strategy
Big Table small table duplication
Nested join
Hash join
Exclusion join
Product joins
Cartesian product join
Join Indexes
Three basic types of join indexes
Join index fundamentals
Join indexes versus other objects
Multi-table join index
Single-table join indexes
Aggregate join index
Sparse index
Sparse index picture
Global join index
Global join index picture
Global join index – multi-table join back
Hash indexes
Hash indexes vs. single-table join indexes
Locks
Teradata has four locks for three levels of locking
Locks and their compatibility
How Teradata locks objects
Teradata locks – first come first serve
Locking queue example 2
Locking queue example 3
Locking modifier
The NOWAIT option
Tools
Database Query Log (DBQL)
DBQL collection options
DBQL tables and views
How to begin logging for DBQM
Teradata Dynamic Query Manager (TDQM)
TDQM works with Queryman (SQL assistant)
TDQM workloads and rules
Performance Monitor - PM
Access logging
Statistics wizard
Index wizard
TSET
Loading the Data
Fastload
Fastload picture
Multiload
Multiload picture
Tpump
Tpump picture
Fastexport
Fastexport picture
Warehouse builder
Insert/select
Utilities summary
Various Topics
Identity columns
Identity columns example
Referential integrity
Soft referential integrity
Roles
Profiles
Compression
Implementing compression
How compression works
Sync scan
Call Level Interface - CLI
LAN connection to Teradata for network attached clients
Mainframe connection to Teradata
Priority Scheduler
Priority scheduler partition hierarchy
Priority scheduler hierarchy definitions
Resource partition example
Multiple resource partitions example
Scheduling policies
Performance periods
Data Protection
Transaction concept and transient journal
How the transient journal works
FALLBACK protection
How fallback works
Fallback clusters
Down AMP Recovery Journal (DARJ)
Redundant Array of Independent Disks (RAID)
Cliques
Cliques – A two node example
Cliques – A four node example
Permanent journal
Table create with fallback and permanent journaling
Archive and recovery
Disaster recovery
Teradata crash dumps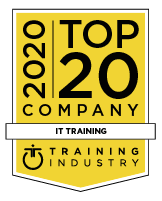 Reviews
---

We Guarantee You'll be Satisfied
At LearnQuest, our goal is always the same: to provide the highest quality training and service to each and every customer.
If you're not satisfied for any reason, simply contact one of our Training Advisors for assistance with your concerns.

Enrollment Options
Select the Training Provider you would like to use
Already have an account? Login here >

You will be leaving the LearnQuest Website
*If using Apple Training Credits or LearnPass, you must enroll with LearnQuest