Course #: WDWP-130
Duration: 3 Days
Price: 1,755.00 USD
Prices reflect a 20% discount for IBM employees
GSA Public Price: ??gsa-public-price??
GSA Private/Onsite Price: ??gsa-private-price??
For GSA pricing, go to GSA Advantage! Delivery Formats
Material: LearnGreen (pdf)
View our Global Training Schedule
Classroom Schedule
Virtual Schedule
Close
There are no virtual classes on the schedule in your country. There are no public classes currently scheduled in your country.
View our global class schedule
This course is available in private, mentoring or e-learning options.

Complete this form, and a Training Advisor will be in touch with you shortly to address your training needs.
By submitting this form, I agree to LearnQuest's Terms and Conditions
View our Global Training Schedule
??elearning-section??
Request Private Training
Close
Tell us a little about yourself:
By submitting this form, I agree to LearnQuest's Terms and Conditions
All Courses Backed by the LearnQuest 100% Satisfaction Guarantee
---
Course Description
This Beginning Perl course is designed to provide students with the ability to create basic Perl scripts.

Objectives
Upon completion of the Beginning Perl course, students will be able to:
Create basic Perl scripts
Audience
Programmers
System Administrators
Prerequisites
Programming experience in a structured language such as C, C++, Java, or COBOL is strongly recommended
Topics
Introduction – Meet Perl
Origin of Perl
Perl Versions
Invoking Perl
Perl Documentation
Perl Resources
Scalar Variables
Numeric Literals
Manipulating Numbers
String Literals
Manipulating Strings
Single vs. Double Quotes
Scalars Variables
Undefined Variables
Auto increment and decrement
Reading data from the user
Chomp & Chop
Curly Braces
Additional Resources
Array Variables
Referencing Array Elements
Adding & Removing Elements
The Splice Function
Using for Loops
The Reverse Statement
The Sort Operator
The qw & qq statements
Arrays used in scalar context
Additional Resources
Associate Array Variables
Crating Associate Arrays
The Values Statement
Reverse searching an associative array
exists vs. defined
Special Variables
The Environment Variables
The Argument Variable
Additional Resources
Flow Control
Blocks
The if Statement
The unless Statement
The switch Statement
The given Statement
The while Statement
The until Statement
The do Statement
Loop Control: last
Loop Control: next
Additional Resources
Conditional Expressions
Numeric Comparison
String Comparison
Pattern Matching
Using the Outcome of a Statement
File Test Conditions
Complex Conditional Expressions
Understand and/or versus &&/||
Using Parentheses
Short Circuiting
Additional Resources
Basic Input and Output
Reading Input
while & until Loops
Record Separator Variable
The Diamond Operator
The Default Variable
Using Parentheses
Advanced Input and Output
Filehandles
The die and warn Statements
Opening and Reading from Files
Opening and Writing to Files
Reading a Block of a Filehandle
Reading a Single Character
Piping in Perl
The format Statement
Here Documents
Additional Resources
Pattern Matching
Pattern Matching vs. Wildcards
Matching, Substituting and Translation
Modifiers
Regular Expressions: Metacharacters
Regular Expressions: Classes
Regular Expressions: Backreferencing
Additional Resources
Perl Utilities
split
join
substr
index
rindex
grep
srand & rand
sleep
Additional Resources
Filesystem & Process Control
Controlling the Filesystem within Perl
Working with Directories
Working with Files
Back-Quoting
The System Statement
Additional Resources
Functions
Creating Functions
Invoking Functions
Returning Values from Functions
Passing Parameters
Scope of Variables
local() vs. my()
Additional Resources
Using Modules
What are Modules?
Loading Modules with use
Other Functions of use
Additional Resources
Debugging Perl
The –w Switch
The Perl Debugger
Debugger Commands
Additional Resources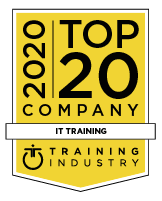 Reviews
---

We Guarantee You'll be Satisfied
At LearnQuest, our goal is always the same: to provide the highest quality training and service to each and every customer.
If you're not satisfied for any reason, simply contact one of our Training Advisors for assistance with your concerns.

Enrollment Options
Select the Training Provider you would like to use
Already have an account? Login here >


You will be leaving the LearnQuest Website
*If using Apple Training Credits or LearnPass, you must enroll with LearnQuest