Course #: SSC30G
Duration: 16 Hours
Price: 1,674.00 USD
Prices reflect a 20% discount for IBM employees
GSA Public Price: ??gsa-public-price??
GSA Private/Onsite Price: ??gsa-private-price??
For GSA pricing, go to GSA Advantage! Delivery Formats
Material: LearnGreen (pdf)
View our Global Training Schedule
Classroom Schedule
Virtual Schedule
Close
There are no virtual classes on the schedule in your country. There are no public classes currently scheduled in your country.
View our global class schedule
This course is available in private, mentoring or e-learning options.

Complete this form, and a Training Advisor will be in touch with you shortly to address your training needs.
By submitting this form, I agree to LearnQuest's Terms and Conditions
View our Global Training Schedule
??elearning-section??
Request Private Training
Close
Tell us a little about yourself:
By submitting this form, I agree to LearnQuest's Terms and Conditions
All Courses Backed by the LearnQuest 100% Satisfaction Guarantee
---
Course Description
This instructor led course will provide an understanding of IBM Spectrum Accelerate, an important, scale-out, software-defined storage product. It has been written to teach everything from the basics of installing IBM Spectrum Accelerate to performing advanced administrative tasks using it.
The course will attempt to clarify the concepts involved in planning, deploying, and implementing IBM Spectrum Accelerate. It will cover the basics of software-defined storage from a technology standpoint as it is today, the product architecture of IBM Spectrum Accelerate, explain its major features and benefits while showing how to implement the solution. It will also cover configurations that an administrator must be aware of by showing multiple use cases.
Objectives
By the end of the course you should be able to:
• Demonstrate an understanding of Software-defined storage from a technology standpoint
• Summarize IBM's Spectrum range of products and their benefits
• Summarize the architecture of IBM Spectrum Accelerate
• Integrate and deploy IBM Spectrum Accelerate in an existing storage infrastructure
• Summarize the key administrative tasks that need to be performed after the installation of IBM Spectrum Accelerate
• Demonstrate an ability to access and interact with the graphical and command line interfaces of the product
• Summarize the various tasks that can be performed on block storage using IBM Spectrum Accelerate by understanding various use cases
Audience
Enrollment in this course is not restricted. Typical students may include:
• Customers
• Technical IBM personnel
• Business Partner technical personnel
• Other IT specialist: consultants and architects
Prerequisites
• Introduction to Storage (SS01G)
Always check our training web site - www.ibm.com/training
Topics
Agenda
Unit 1: Introduction to IBM Spectrum Accelerate
Unit 2: Planning for Spectrum Accelerate
Unit 3: IBM Spectrum Accelerate Implementation
Unit 4: IBM Spectrum Accelerate Administration
Unit 5: IBM Spectrum Accelerate Trouble Shooting
Lab Exercises
Exercise 1: Not used in this course
Exercise 2: Navigation and User Management in IBM Spectrum Accelerate
Exercise 3: Managing Capacity
Exercise 4: Managing Snapshots & Consistency Groups
Exercise 5: Managing Host Attachments
Exercise 7: Monitoring in IBM Spectrum Accelerate
Exercise 8: A walk-through of mirroring with IBM Spectrum Accelerate
Exercise 9: Multi-tenancy and Troubleshooting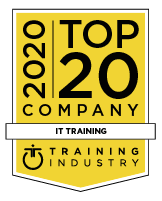 Reviews
---

We Guarantee You'll be Satisfied
At LearnQuest, our goal is always the same: to provide the highest quality training and service to each and every customer.
If you're not satisfied for any reason, simply contact one of our Training Advisors for assistance with your concerns.

Enrollment Options
Select the Training Provider you would like to use
Already have an account? Login here >

You will be leaving the LearnQuest Website
*If using Apple Training Credits or LearnPass, you must enroll with LearnQuest