Course #:CCC-135
Duration: 3 Days
Price: 2,994.00 USD
IBM Employees receive a 20% discount on all purchases
GSA Public Price: ??gsa-public-price??
GSA Private/Onsite Price: ??gsa-private-price??
For GSA pricing, go to GSA Advantage! Delivery Formats
Material: LearnGreen (pdf)
View our Global Training Schedule
Classroom Schedule
Virtual Schedule
Close
There are no virtual classes on the schedule in your country. There are no public classes currently scheduled in your country.
View our global class schedule
This course is available in private, mentoring or e-learning options.

Complete this form, and a Training Advisor will be in touch with you shortly to address your training needs.
By submitting this form, I agree to LearnQuest's Terms and Conditions
View our Global Training Schedule
??elearning-section??
Request Private Training
Close
Tell us a little about yourself:
By submitting this form, I agree to LearnQuest's Terms and Conditions
All Courses Backed by the LearnQuest 100% Satisfaction Guarantee
---
Course Description
The CCC Cloud Technology Associate™ certification demonstrates that students have the basic skill set and knowledge associated with cloud and virtualization. This certification is a critical step to advance your career as organizations look for qualified Cloud Technology Associates.
The certification allows IT professionals to operate effectively in a cloud environment as they can demonstrate an understanding of the cloud key concepts and its relevant terminology. Furthermore, it provides the foundation needed to successfully complete subsequent vendor-specific training/certification programs and also provides a baseline for the subsequent CCC Professional level certifications.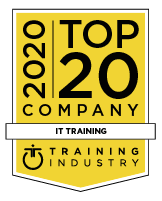 Objectives
Upon completion of the CCC Cloud Technology Associate (CTA) course, students will be able to:
Identify the fundamental concepts of cloud computing and virtualization. This will also include business benefits of cloud computing and technical aspects (high-level) of virtualization.
Identify the technical challenges and the mitigation measures involved in cloud computing and virtualization.
Understand the latest digitization trends associated with cloud computing.
Define cloud security and identify the risks involved in cloud computing as well as the risk mitigation measures.
List the steps to successfully adopt cloud services.
Audience
IT Specialists (Analysts, Developers, Architects, Testing, etc.)
IT Administrators (System, Database, etc.)
IT Provisioning and Maintenance (Hardware, Network, Storage, etc.)
IT Managers
IT Project Managers
Others (Sales, Purchase, Audit, Legal, etc.)
Prerequisites
There are no formal prerequisites; however, it is recommended that participants have:
6+ months of experience in Internet/web technologies
Some basic knowledge of storage and network technologies (preferred)
Topics
Course Introduction
Let's Get to Know Each Other
Overview
Course Objectives
Course Agenda
Type of Activities
Exam
Course Book
Introduction to Cloud Services Model
Module Objectives
Review Traditional Computing Challenges and Concerns
Cloud Computing Concepts, History, and Definitions
Cloud Computing Benefits and Challenges
Cloud Reference Architecture and Common Terminologies
Activity - Identifying Cloud Service/Deployment Model
Introduction to Virtualization: The Backbone Technology of Cloud Computing
Module Objectives
Virtualization: Definition, Concepts, History, and Relationship to Cloud Computing
Virtualization: Benefits, Challenges, Risks, and Suitability to Organizations
Hypervisor: Role and Purpose in Virtualization and Various Types of Hypervisor
Virtualization: Terminologies/Features
Virtualization: Different Types of Virtualization
Activity – Identifying Virtual Machines and Containers
The Role of Cloud and Other Technologies in Digital Transformation
Module Objectives
Big Data Analytics, Hadoop, and NoSQL
Internet of Things
Activity - Internet of Things (Simulated Hands-on Lab
DevOps
Activity - DevOps Culture - Patterns and Anti-Patterns
Artificial Intelligence and Machine Learning
Activity - Machine Learning
Cloud Security, Risk, Compliance and Governance
Module Objectives
Security, Risk, Compliance and Governance Definitions
Impact of Cloud Essential Characteristics
Impact of Cloud Service Models
Impact of Cloud Deployment Models
Best Practices and General Cloud Security Recommendations
Activity - Identifying Cloud Threats and Vulnerabilities
Preparing for Cloud Adoption
Module Objectives
Cloud Strategy and Roadmap Preparation
Solution Architectures: For Various Service Models, Deployment Models, and Organizational Capabilities
Cloud Service Provider, SLA, and Cloud Migration
Mock Exam

Reviews
---

We Guarantee You'll be Satisfied
At LearnQuest, our goal is always the same: to provide the highest quality training and service to each and every customer.
If you're not satisfied for any reason, simply contact one of our Training Advisors for assistance with your concerns.

Enrollment Options
Select the Training Provider you would like to use
Already have an account? Login here >

You will be leaving the LearnQuest Website
*If using Apple Training Credits or LearnPass, you must enroll with LearnQuest