Course #: BFIX-126
Duration: 3 Days
Price: 2,385.00 USD
Prices reflect a 20% discount for IBM employees
GSA Public Price: ??gsa-public-price??
GSA Private/Onsite Price: ??gsa-private-price??
For GSA pricing, go to GSA Advantage! Delivery Formats
Material: LearnGreen (pdf)
View our Global Training Schedule
Classroom Schedule
Virtual Schedule
Close
There are no virtual classes on the schedule in your country. There are no public classes currently scheduled in your country.
View our global class schedule
This course is available in private, mentoring or e-learning options.

Complete this form, and a Training Advisor will be in touch with you shortly to address your training needs.
By submitting this form, I agree to LearnQuest's Terms and Conditions
View our Global Training Schedule
??elearning-section??
Request Private Training
Close
Tell us a little about yourself:
By submitting this form, I agree to LearnQuest's Terms and Conditions
All Courses Backed by the LearnQuest 100% Satisfaction Guarantee
---
Course Description
In this class students will learn about using the BigFix policy language known as Relevance. Topics covered will teach BigFix users about the underlying principles, syntax and constructs of the Relevance language. This will allow students to manipulate existing BigFix-provided content, but also create their own custom properties, analyses, Fixlets, Tasks, Baselines and other content. The first two days of the class are dedicated to understanding basic Relevance, whereas the third day will delve into advanced Relevance concepts and Action Script.

Objectives
Upon completion of the BigFix Content & Relevance course, students will be able to:
Gain an understanding of BigFix Relevance and Action Script
Learn about how BigFix Content is organized including Domains and Sites
Learn how to examine BigFix Content and the differences between Fixlets and Tasks
Learn about Baselines, Computer Groups, Properties, Analyses and Actions
Learn about BigFix content authoring tools and how to use them to write Relevance
Learn how to create BigFix content using Relevance
Create Content Using the BigFix Console and WebUI
Prerequisites
Basic Microsoft Windows
Basic Coding skills
BigFix Operator Fundamentals v9.5 Course or Equivalent
Topics
Day 1
Authoring Tools
Introduction to BigFix Tools for Content Creation

Fixlet Debugger
WebUI Query Channel
BigFix Console
Introduction to Relevance
What is the function of Relevance?

Scripting vs. Policy Language
Branches of the Relevance Language
Where does it fit in to the BigFix platform?

What is BigFix Content?

Fixlets
Tasks
Baselines
Computer Groups
Properties
Analyses
Actions

How is Content Organized?
Content Examination

Fixlets / Tasks
Baselines
Computer Groups
Properties
Analyses
Actions
Relevance Basics
Language Objects and Inspectors

Types
Object Property Inspection
Platform-specific vs. Platform-agnostic Inspectors
Day 2
Relevance Basics (continued)
Understanding Syntax and Constructs

Plurality
Casting
Concatenation
String Manipulation
Basic Arithmetic
Day 3
Advanced Relevance Concepts
Data Manipulation
Advanced Arithmetic Operations
Action Script
Action Script Syntax and Usage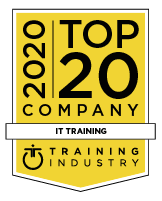 Reviews
---

We Guarantee You'll be Satisfied
At LearnQuest, our goal is always the same: to provide the highest quality training and service to each and every customer.
If you're not satisfied for any reason, simply contact one of our Training Advisors for assistance with your concerns.

Enrollment Options
Select the Training Provider you would like to use
Already have an account? Login here >


You will be leaving the LearnQuest Website
*If using Apple Training Credits or LearnPass, you must enroll with LearnQuest