LearnQuest Badge Program - Watson
LearnQuest is working to offer digital badges upon successful completion and attainment of course objectives.
Badge Courses Watson Series offered by LearnQuest: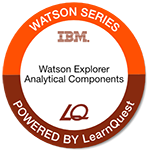 This badge holder has demonstrated understanding of the core features and functionality of Watson Explorer Analytical Components. Recipient is able to use the content analytics, annotator, and content mining functionality. This primary functionality is found in an Analytics collections crawling, parsing, indexing, annotating, and searching components.
Click here for course objectives.
Badge Criteria and Activities
Badge earners have successfully achieved class objectives demonstrated by progress in lab exercises, attendance, participation in question & answer sessions, and/or assessments associated with:

Understanding functional architecture & security options;
Creating & configuring a text analytics collection;
Using Content Analytics Miner & Content Analytics Studio;
Using Administration Console & Content Analytics Miner.
Recommended next steps:

Evidence:
---