title
Date: xxx
Location: xxx
Time: xxx
Price: xxx
Please take a moment to fill out this form. We will get back to you as soon as possible.
All fields marked with an asterisk (*) are mandatory.
Digital Badge Program

Watson

A digital credential recognized and valued around the world.
LearnQuest IBM Watson Explorer Analytical Components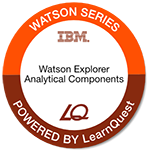 This badge holder has demonstrated understanding of the core features and functionality of Watson Explorer Analytical Components. Recipient is able to use the content analytics, annotator, and content mining functionality. This primary functionality is found in an Analytics collections crawling, parsing, indexing, annotating, and searching components.
Badge Criteria and Activities
Badge earners have successfully achieved class objectives demonstrated by progress in lab exercises, attendance, participation in question & answer sessions, and/or assessments associated with:

Need more Information?
Speak with our training specialists to continue your learning journey.
Talk to our team