What is CSC
CSC is also called CVV, CVV1, CVV2, CVC, CVC1, CVC2, or CCID.
CSC (Card Security Code) is a authentication system established by credit card companies to reduce the risk of credit card fraud for online transactions. It consists of requiring a card holder to enter the CSC number in at transaction time to verify that the card is on hand. Most banks have upgraded their card holders card using this new system. If your card does not have a CSC number, please enter 000 in the CSC field on our order form.
The location of the CSC number depends on the type of credit card you are using. The graphics below will help you find the location of your CSC number based on the type of credit card you wish to use.
Visa & MasterCard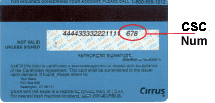 American Express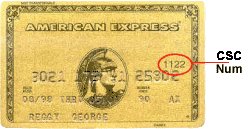 Please don't hesitate to contact us at 610-206-0101, if you have any questions.