Course #: AN30G
Duration: 40 Hours
Price: 3,975.00 USD
Prices reflect a 20% discount for IBM employees
Prices shown are the special AWS Partner Price
Prices reflect the Capgemini employee discount
Prices reflect the UPS employee discount
GSA Public Price: ??gsa-public-price??
GSA Private/Onsite Price: ??gsa-private-price??
For GSA pricing, go to GSA Advantage! Delivery Formats
Material: LearnGreen (pdf)
View our Global Training Schedule
Classroom Schedule
Virtual Schedule
Close
There are no virtual classes on the schedule in your country. There are no public classes currently scheduled in your country.
View our global class schedule
This course is available in private, mentoring or e-learning options.

Complete this form, and a Training Advisor will be in touch with you shortly to address your training needs.
By submitting this form, I agree to LearnQuest's Terms and Conditions
View our Global Training Schedule
??elearning-section??
Request Private Training
Close
Tell us a little about yourself:
By submitting this form, I agree to LearnQuest's Terms and Conditions
All Courses Backed by the LearnQuest 100% Satisfaction Guarantee
---
Course Description
This course provides an overview of the PowerVM edition's features on POWER processor-based systems. It explains the new features and benefits of virtualization including processor virtualization, Virtual I/O Server, and virtual devices, such as virtual Ethernet, virtual SCSI, and virtual Fibre Channel adapters. Basic and advanced configurations of the Virtual I/O Server and its clients are discussed including various availability options.
Expand your knowledge about PowerVM features that were introduced in Power Systems for AIX I: LPAR Configuration and Planning (AN11G).
This course provides lectures and hands on labs in an instructor lead course environment, either in a face-to-face classroom or in a live virtual classroom environment (ILO - Instructor Led Online).
Objectives
Configure virtual SCSI devices that are backed by physical volumes, logical volumes, and optical media devices
Configure the Optical Media Repository, load a CD image, and use it to install a new AIX partition
Configure virtual Fibre channel devices using NPIV technology
Configure Ethernet link aggregation for load balancing and backup channel in the VIOS
Configure Shared Ethernet adapter failover and load sharing
Configure vNIC failover
Perform Virtual I/O Server maintenance operations
Audience
This advanced course is appropriate for System Administrators, Technical Support Personnel, and Business Partners responsible for implementing LPARs on IBM Power Systems with AIX servers.
Prerequisites
You must have advanced system administration experience with AIX 6 or AIX 7. This prerequisite can be met by attending one of the following courses:
Power Systems for AIX II: Implementation and Administration (AN12G)
Power Systems for AIX III: Advanced Administration and Problem Determination (AN15G)
AIX Jumpstart for UNIX Professionals (AN14G)
Alternatively, you must have equivalent AIX and LPAR skills.
General TCP/IP knowledge is strongly recommended.
You are also expected to have logical partition administration skills on Power Systems servers, which can be obtained by attending Power Systems for AIX I: LPAR Configuration and Planning (AN11G).
Topics
Unit 1: Introduction to partitioning
Exercise 1: Power Systems documentation overview
Unit 2: HMC V8 enhancements
Exercise 2: HMC enhanced interface
Unit 3: Processor virtualization
Exercise 3: Processor virtualization configuration
Unit 4: Virtual Ethernet
Exercise 4: Virtual Ethernet adapter configuration
Unit 5: Virtual I/O Server and Shared Ethernet Adapter
Exercise 5: Virtual I/O Server configuration
Unit 6: Virtual SCSI devices
Exercise 6: Client partition configuration
Unit 7: Virtual network configuration with dual VIOS
Exercise 7: SEA failover setup
Unit 8: Virtual SCSI configurations with dual VIOS
Exercise 8: Dual VIO server configuration with MPIO in the client partition
Unit 9: Virtual Fibre Channel devices
Exercise 9: Virtual Fibre Channel adapter configuration
Unit 10: HMC Service Management
Exercise 10: Manage service events
Unit 11: PowerVM advanced systems maintenance
Exercise 11: PowerVM system maintenance
Exercise 12: (Optional) File-backed virtual SCSI devices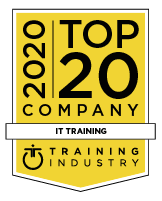 Reviews
---

We Guarantee You'll be Satisfied
At LearnQuest, our goal is always the same: to provide the highest quality training and service to each and every customer.
If you're not satisfied for any reason, simply contact one of our Training Advisors for assistance with your concerns.

Enrollment Options
Select the Training Provider you would like to use
Already have an account? Login here >


You will be leaving the LearnQuest Website
*If using Apple Training Credits or LearnPass, you must enroll with LearnQuest