Boston Training Solutions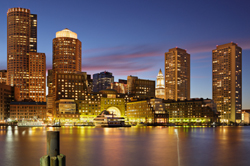 Boston is proud of its Route 128 business region, which locals call Silicon Alley. A powerful combination of academics, engineers, industrialists, entrepreneurs and government agencies drove the initial development along the 60+ miles of highway surrounding the Boston-Cambridge hub. The Department of Defense and the National Science Foundation both poured money into the region to support the efforts of professors, graduate students and even talented dropouts. Today, LearnQuest is helping to till this fertile ground with its array of training programs delivered to Boston residents at regional client training sites, as well as with private on-site instructors and Live Web-Based Training.
From its beginning some 40 years ago, the Boston "tech corridor" has grown prodigiously, with world-class research being performed by some of the best scientists in the world. There are private and public research and development programs in place at colleges, universities, private firms and cooperative ventures formed by different combinations of these stakeholders, and the need for IT professionals is not just constant but growing.
Depth and Breadth
Among other firms, Raytheon, EG&G Incorporated and DEC grew to maturity here, and the area has branched out from its original R&D roots to encompass firms that are bringing to market the latest and greatest products and services in the fields of computing, robotics, biotechnology and artificial intelligence, among many others. The depth and breadth of the technology sector in Boston means a continuing demand for state-of-the-art skills in such specialties as Teradata, IBM Cognos and WebSphere, Java and Mobile Programming. The future remains bright for the Boston region, as it does for the IT professionals and business managers that LearnQuest prepares for the challenge.
Betting on Boston
Boston is a leading center of higher education and high technology. The character of Silicon Alley is both entrepreneurial and institutional, inspiring the area's massive base of creative talent to develop a wide range of creative approaches to training and education. This is reflected in LearnQuest's methods. From on-site private instruction to flexible online programs (both real-time and on-demand), students of all ages and circumstances can find a way to acquire the latest IT skills. Both business and government in Boston are serious about economic growth and technological strength, so businesses can plan for the future and count on a stable economic environment.
Bottom Line
LearnQuest is in business to prepare people in industry, government and academia with the requisite IT skills to succeed in the present and advance into the future. Project management and other business training classes complement the full range of IT offerings, and the array of delivery options cover every situation imaginable. There are definitely challenges ahead, as life can be unpredictable at times. However, there is every indication that LearnQuest and Boston are made for each other, and that together they add up to the right formula for both today and tomorrow. The quest for knowledge truly is a lifelong journey, and for today's business professionals it is a journey that begins with IT and business skills training at LearnQuest.