title
Date: xxx
Location: xxx
Time: xxx
Price: xxx
Please take a moment to fill out this form. We will get back to you as soon as possible.
All fields marked with an asterisk (*) are mandatory.
Digital Badge Program

Endpoint Manager

A digital credential recognized and valued around the world.
LearnQuest IBM Endpoint Manager Fundamentals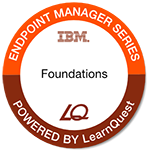 This badge holder can utilize endpoint and security management as a single solution that enables teams to see and manage physical and virtual endpoints. Recipient can rapidly re-mediate, protect, and report on endpoints in real-time by automating time-intensive tasks across complex networks, controlling costs, reducing risk, and supporting compliance.
Badge Criteria and Activities
Badge earners have successfully achieved class objectives demonstrated by student progress in lab exercises, attendance, participation in question & answer sessions, and/or assessments associated with:
Need more Information?
Speak with our training specialists to continue your learning journey.
Talk to our team