IBM and LearnQuest Badge Program - Bluemix
LearnQuest is working together with IBM to offer IBM training courses and award digital badges upon successful completion and attainment of course objectives.
IBM Badge Courses Bluemix Series offered by LearnQuest: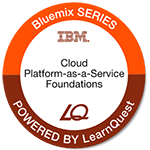 This badge holder is familiar with Bluemix, IBM's Platform-as-a-Service offering based on Cloud Foundry, Open Stack, and other open technologies. The recipient understands cloud concepts, the architectural foundations of Cloud Foundry and Bluemix, and is able to use the platform.
Click here for course objectives.
Badge Criteria and Activities
Badge earners have successfully achieved class objectives demonstrated by student progress in lab exercises, attendance, participation in question and answer sessions, and/or assessments associated with:
Defining Bluemix, its value proposition, & its deployment options
Describing the architectural elements of Cloud Foundry behind Bluemix & Bluemix components
Deploying simple applications to Bluemix in multiple ways
Adding & using available Bluemix services in an application
Recommended next steps:

Evidence:
---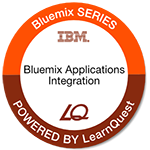 This badge holder is able to connect applications that are running on the public Bluemix cloud to Systems of Record that are running in a data center. Recipients are also able to add custom APIs to the Bluemix console and stage data in the cloud (Bluemix) environment.
Click here for course objectives.
Badge Criteria and Activities
Badge earners have successfully achieved class objectives demonstrated by student progress in lab exercises, attendance, participation in question and answer sessions, and/or assessments associated with:
Describing the challenges of cloud application integration, Systems of Record & Systems of Engagement, API management, Connect & Compose, and Dataworks services
Using the Secure Gateway service
Implementing Transport Layer Security (TLS)
Modifying applications to work with Secure Gateway
Recommended next steps:

Evidence:
---