LearnQuest Badge Program - Rhapsody
LearnQuest is working to offer digital badges upon successful completion and attainment of course objectives.
Badge Courses Rhapsody Series offered by LearnQuest: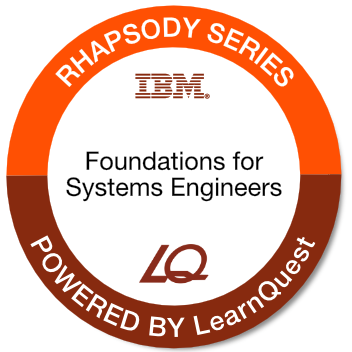 This badge earner has learned the techniques required to use the Systems Modeling Language and Rational Rhapsody to solve complex system engineering problems. The recipient has built a strong foundation in SysML and Rhapsody. This badge holder can use Rhapsody to build models, executable token-based activity diagrams, Metrics views, OSLC-based requirements linking and SysML Proxy Ports and Interface Blocks.
Click here for course objectives.
Badge Criteria and Activities
Badge earners have successfully achieved class objectives demonstrated by student progress in lab exercises, attendance, participation in question & answer sessions, and/or assessments associated with: Using Rhapsody in the context of a system engineering process flow to ensure application of Rhapsody at all phases of system analysis & design; Creating systems level models with full traceability to oslc-based requirements, impact & coverage analysis; Validating systems models through execution.
Recommended next steps:

Evidence:
---