IBM and LearnQuest Badge Program - Spectrum Scale
LearnQuest is working together with IBM to offer IBM training courses and award digital badges upon successful completion and attainment of course objectives.
IBM Badge Courses Spectrum Scale Series offered by LearnQuest: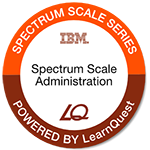 This badge holder has demonstrated experience with administering a Spectrum Scale system. The recipient is able to install, configure and monitor a Spectrum Scale cluster.
Click here for course objectives.
Badge Criteria and Activities
During a LearnQuest delivered course, badge earners have successfully achieved class objectives demonstrated by student progress in lab exercises, attendance, participation in question & answer sessions, and/or assessments associated with:
Describing/setting up GUI interface, IBM Spectrum Scale multi-cluster, SMB, LTFS, EE, cNFS
Managing Ganesha default configuration
Defining asynchronous DR, Share Nothing Architecture & CES
Recommended next steps:

Evidence:
---