LearnQuest Badge Program - API Connect
LearnQuest is working to offer digital badges upon successful completion and attainment of course objectives.
Badge Courses API Connect Series offered by LearnQuest: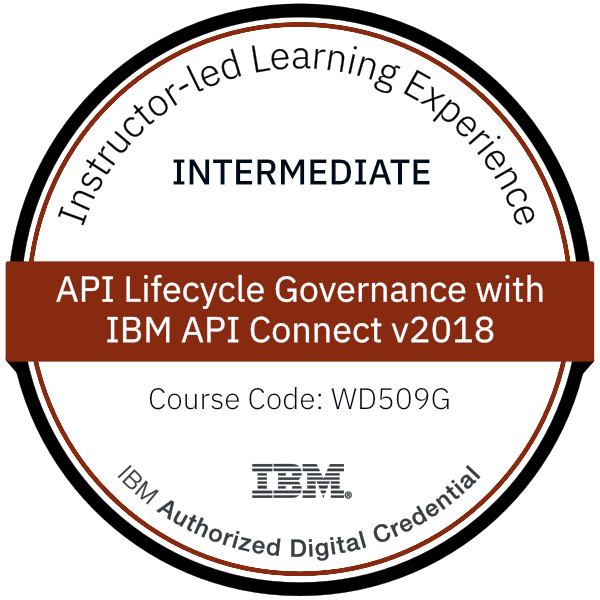 This credential earner has completed instructor-led learning for understanding how to configure the gateway, portal, and analytics services in Cloud Manager that are used by the API Connect infrastructure through all phases of the API lifecycle.
Click here for course objectives.
Badge Criteria and Activities
Successfully complete the following IBM Instructor-Led course: API Lifecycle Governance with IBM API Connect v2018 - Code: WD509G
Recommended next steps:

Evidence:
---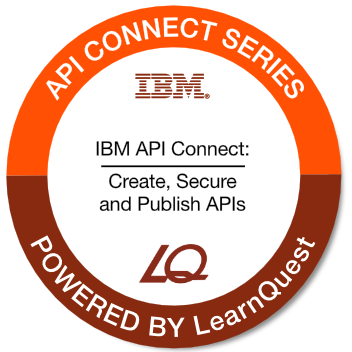 This badge holder has demonstrated experience with creating, publishing, and securing APIs with IBM API Connect. The recipient is able to use the Developer Toolkit to define an API interface according to the OpenAPI specification and assemble message processing policies in the API Designer web application and define client authorization schemes, such as OAuth, in the API definition.
Click here for course objectives.
Badge Criteria and Activities
During a LearnQuest delivered course, badge earners have successfully achieved class objectives demonstrated by student progress in lab exercises, attendance, participation in question & answer sessions, and/or assessments associated with:
Create APIs
Implement APIs with the LoopBack Node.js framework
Validate, filter, & transform API requests & responses; Authorize client API requests
Enforce an OAuth flow
Stage, publish, & test APIs on the API Connect cloud
Recommended next steps:

Evidence:
---