IBM and LearnQuest Badge Program - WebSphere WCM
LearnQuest is working together with IBM to offer IBM training courses and award digital badges upon successful completion and attainment of course objectives.
IBM Badge Courses WebSphere WCM Series offered by LearnQuest: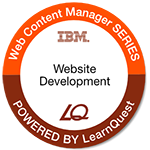 This badge holder can build a website by using IBM Web Content Manager. The recipient is able to build an authoring system, create and manage web content items, create a change management framework, and deliver web content.
Click here for course objectives.
Badge Criteria and Activities
Badge earners have successfully achieved class objectives demonstrated by student progress in lab exercises, attendance, participation in question & answer sessions, and/or assessments associated with:
Build a website & applications
Create components, content authoring system, authoring templates, web content items, content library, draft items
Add navigational components & personalization components
Use editing functions, Site Builder, & Mobile Preview
Reference CSS files
Install Script Portlet
Recommended next steps:

Evidence:
---