IBM and LearnQuest Badge Program - BigFix
LearnQuest is working together with IBM to offer IBM training courses and award digital badges upon successful completion and attainment of course objectives.
IBM Badge Courses BigFix Series offered by LearnQuest: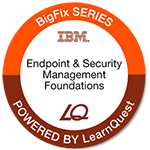 This badge holder can utilize endpoint and security management as a single solution that enables teams to see and manage physical and virtual endpoints. Recipient can rapidly re-mediate, protect, and report on endpoints in real-time by automating time-intensive tasks across complex networks, controlling costs, reducing risk, and supporting compliance.
Click here for course objectives.
Badge Criteria and Activities
Badge earners have successfully achieved class objectives demonstrated by student progress in lab exercises, attendance, participation in question & answer sessions, and/or assessments associated with:
Fulfilling basic architecture & deployment roles
Managing licensing & content relevant to managed environment
Enforcing security policy, applying software patches, & monitoring compliance
Configuring web reporting
Troubleshooting using tools & techniques provided
Recommended next steps:

Evidence:
---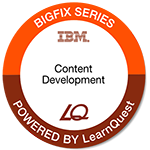 This badge holder has demonstrated experience with learning the basic Relevance constructs used to create Relevance expressions. The recipient knows how to manipulate various Relevance objects and properties, debugging methods, and how to create Relevance for custom fixlets, tasks, automatic computer groups, retrieved properties, and analyses. The badge earner also knows how to create and test action scripts.
Click here for course objectives.
Badge Criteria and Activities
During a LearnQuest delivered course, badge earners have successfully achieved class objectives demonstrated by student progress in lab exercises, attendance, participation in question & answer sessions, and/or assessments associated with:
Discussing how to use Relevance language
Describing basic Relevance objects
Using Relevance objects to develop Relevance statements
Leveraging action script specific documents & commands to create actions
Recommended next steps:

Evidence:
---