LearnQuest Badge Program - WebSphere Transformation Extender
LearnQuest is working to offer digital badges upon successful completion and attainment of course objectives.
Badge Courses WebSphere Transformation Extender Series offered by LearnQuest: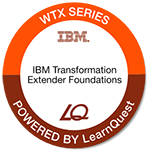 This badge holder has demonstrated how to use the IBM Transformation Extender Design Studio to define, transform, and route business objects and complex flat file data. The recipient understands the IBM Transformation Extender product and its features, creating and deploying maps, working with a resource registry, retrieving/updating data from database. The badge holder has demonstrated skills such as optimizing maps, handling and logging errors, defining data, and indexing output.
Click here for course objectives.
Badge Criteria and Activities
Badge earners have successfully achieved class objectives demonstrated by progress in lab exercises, attendance, participation in question & answer sessions, and/or assessments associated with:
Compare Rational Application Developer and WebSphere Portlet Factory
Locate developer resources
Review portlet concepts, such as the portlet lifecycle, WAR file architecture, core, objects, and methods
Set up a development environment
Perform basics of creating a project, deploying a portlet, starting and stopping a server, and adding a portlet to a page
Defining workspaces & projects
Using the Type Designer to define data structures, data properties, data components as type trees, type design & mapping techniques, the Resource Registry
Validating type trees
Transforming flat files
Implementing error handling
Optimizing map performance
Recommended next steps:

Evidence:
---