title
Date: xxx
Location: xxx
Time: xxx
Price: xxx
Please take a moment to fill out this form. We will get back to you as soon as possible.
All fields marked with an asterisk (*) are mandatory.
Digital Badge Program

WebSphere DataPower

A digital credential recognized and valued around the world.
LearnQuest IBM Administration of IBM DataPower Gateway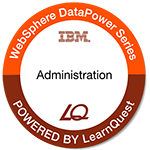 This badge holder has demonstrated experience with how to run various administrative procedures, from initial installation and setup through ongoing maintenance of the appliances in production. The earner has gained skills around the available management interfaces, such as the command-line interface (CLI), Web Management graphical interface, and XML Management Interface. The individual has also learned how to use them to run various administrative tasks.
Badge Criteria and Activities
During a LearnQuest delivered course, badge earners have successfully achieved class objectives demonstrated by student progress in lab exercises, attendance, participation in question & answer sessions, and/or assessments associated with:

Need more Information?
Speak with our training specialists to continue your learning journey.
Talk to our team