LearnQuest Badge Program - WebSphere DataPower
LearnQuest is working to offer digital badges upon successful completion and attainment of course objectives.
Badge Courses WebSphere DataPower Series offered by LearnQuest: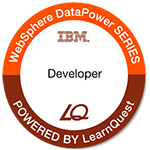 This badge holder can configure, implement, and troubleshoot services developed on IBM DataPower Gateway appliances. Recipients can implement the use cases for the appliances, including: web service virtualization & security, integrating with IBM MQ, Mobile & REST support, integrating with OAuth, and authentication, authorization, & auditing. Badge holders are able to use problem determination tools such as logs, monitors, & probes, and techniques for testing services and handling errors.
Click here for course objectives.
Badge Criteria and Activities
Badge earners have successfully achieved class objectives demonstrated by progress in lab exercises, attendance, participation in question & answer sessions, and/or assessments associated with:
Creating a web service proxy, cryptographic objects, & web services security
Configuring SSL, multi-protocol gateways, service level monitoring policies, support for MQ & JMS, & resources to support OAuth
Using logs & probes, patterns, & options to support REST & JSON-based services
Handling errors
Recommended next steps:

Evidence:
---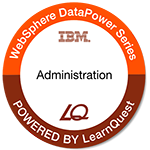 This badge holder has demonstrated experience with how to run various administrative procedures, from initial installation and setup through ongoing maintenance of the appliances in production. The earner has gained skills around the available management interfaces, such as the command-line interface (CLI), Web Management graphical interface, and XML Management Interface. The individual has also learned how to use them to run various administrative tasks.
Click here for course objectives.
Badge Criteria and Activities
During a LearnQuest delivered course, badge earners have successfully achieved class objectives demonstrated by student progress in lab exercises, attendance, participation in question & answer sessions, and/or assessments associated with:

Configuring an appliance for its initial deployment
Downloading & upgrading firmware on DataPower appliances
Configuring SSL to & from DataPower Appliances & logging of messages to external locations
Troubleshooting & debugging services
Recommended next steps:

Evidence:
---