IBM and LearnQuest Badge Program - WebSphere App Server
LearnQuest is working together with IBM to offer IBM training courses and award digital badges upon successful completion and attainment of course objectives.
IBM Badge Courses WebSphere App Server Series offered by LearnQuest: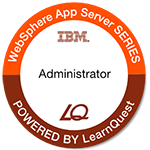 This badge holder can administer WebSphere Application Server base, Network Deployment (ND), and Liberty profile; deploy enterprise Java applications to WAS; work with IBM Installation Manager and WebSphere Customization Toolbox; understand WAS security enhancements, Intelligent Management, and centralized installation.
Click here for course objectives.
Badge Criteria and Activities
Badge earners have successfully achieved class objectives demonstrated by student progress in lab exercises, attendance, participation in question & answer sessions, and/or assessments associated with:
Installing and configuring WAS, HTTP Server, Liberty profile, & Java applications
Using administrative & problem determination tools, wsadmin scripting, log files, & Intelligent Management & Batch features
Configuring security & JMS messaging
Deploying applications in clustered environments
Recommended next steps:

Evidence:
---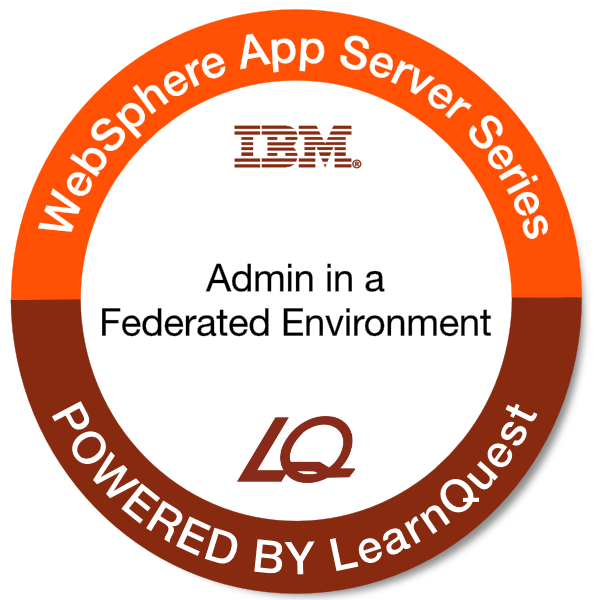 This badge holder has demonstrated experience working with skills that are needed to administer IBM WebSphere Application Server in a federated environment. The earner can configure and maintain IBM WebSphere Application Server Network Deployment and can deploy and create a deployment manager and federate a cell. The earner can successfully create a cluster within the federated cell.
Click here for course objectives.
Badge Criteria and Activities
During a LearnQuest delivered course, badge earners have successfully achieved class objectives demonstrated by student progress in lab exercises, attendance, participation in question & answer sessions, and/or assessments associated with:
Recommended next steps:

Evidence:
---