title
Date: xxx
Location: xxx
Time: xxx
Price: xxx
Please take a moment to fill out this form. We will get back to you as soon as possible.
All fields marked with an asterisk (*) are mandatory.
Digital Badge Program

Maximo

A digital credential recognized and valued around the world.
LearnQuest IBM Maximo Asset Management Fundamentals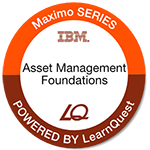 This badge holder understands the concepts & setup considerations of the business areas supported by Maximo; & applications, processes, & interrelationships within Maximo. The badge holder can establish key performance indicators to monitor asset conditions & trigger automated action based on changes. The recipient also creates, assigns, monitors, notifies, & reports on key process components such as work orders, service desk tickets, & purchase orders, including status, from start to finish.
Badge Criteria and Activities
Badge earners have successfully achieved class objectives demonstrated by student progress in lab exercises, attendance, participation in question & answer sessions, and/or assessments associated with:
Need more Information?
Speak with our training specialists to continue your learning journey.
Talk to our team