IBM and LearnQuest Badge Program - WebSphere BPM Series
LearnQuest is working together with IBM to offer IBM training courses and award digital badges upon successful completion and attainment of course objectives.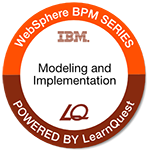 This badge holder has demonstrated process modeling skills, project development methodology, implementation fundamentals, and delivery best practice patterns. The recipient has used the Process Designer to create a Business Process Definition and is able to enable all team members to use standard process model elements and notation. The badge holder builds an agile and flexible shared process model usable by business stakeholders, implemented by developers, and adjusted for process changes.
Click here for course objectives.
Badge Criteria and Activities
Badge earners have successfully achieved class objectives demonstrated by progress in lab exercises, attendance, participation in question & answer sessions, and/or assessments associated with:
Creating a snapshot, decision service, business data model, business process activities, nested processes, & Coaches
Using Process Designer, gateways, intermediate timer events, managed files, toolkits, timer events, error handling, message events, external data, variables & data flow, & asset tagging
Recommended next steps: