IBM and LearnQuest Badge Program - Linux Series
LearnQuest is working together with IBM to offer IBM training courses and award digital badges upon successful completion and attainment of course objectives.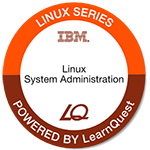 This badge holder has learned the techniques required to use techniques, methods, and policies to administer a Linux system. These skills include installing Linux from a network install server, setting up network install servers, and performing automated installs. The badge recipient is able to manage system and services startup and shutdown.
Click here for course objectives.
Badge Criteria and Activities
Badge earners have successfully achieved class objectives demonstrated by progress in lab exercises, attendance, participation in question & answer sessions, and/or assessments associated with:
Configuring printers, kernel, X Window System, & VNC;
Using packaging tools, scheduling tools, & system admin tools;
Managing logging, memory, devices, hard disks, partitions, RAID, & LVM;
Creating file systems, quotas, & backups;
Applying user-level security;
Troubleshooting.
Recommended next steps (depending on operating system):