title
Date: xxx
Location: xxx
Time: xxx
Price: xxx
Please take a moment to fill out this form. We will get back to you as soon as possible.
All fields marked with an asterisk (*) are mandatory.
Press & News
LearnQuest: Named a 2019 Top 20 IT Training Company by Training Industry, Inc.
12/9/2019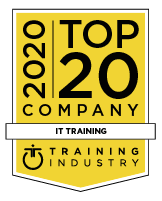 Philadelphia, PA, December 9, 2019 - TrainingIndustry.com has recognized LearnQuest as one of the year's Top 20 IT Training Companies for the 5th year in a row.
With a mission to continually monitor the IT training marketplace, TrainingIndustry.com is dedicated to helping consumers find the best training solutions available.
The selection for the 2019 Top 20 IT Training Companies List was based on several criteria: leadership and innovation in IT training; breadth and quality of IT training content and courses; company size and growth potential; quality and strength of clients; and geographic reach.
LearnQuest is honored to have excelled in each of these areas. They attribute their success, not only to a diverse and evolving course catalog but also to an unwavering dedication to service quality and client satisfaction.
According to Managing Director, Dimitri Schneiberg, 'Our inclusion on the Training Industry Top20 IT Training Company list for the past five years is a true testament to the dedication and passion of the LearnQuest team in bringing innovation and the highest quality of training and customer service to our customers and partners.'
With this prestigious award in hand, LearnQuest will continue the work they have been doing for over twenty years; combining custom learning solutions with state-of-the-art training delivery, to turn strong client-vendor relationships into truly unique partnerships.
Complete results of the 2019 Top 20 IT Training Companies List, including company profiles, can be found at TrainingIndustry.com.
About LearnQuest
For over twenty years, LearnQuest has been the leading provider of global IT and Business Skills training for corporations and government agencies. An award winner for Innovation in Learning Effectiveness, LearnQuest offers classroom, virtual, and self-paced training in a wide variety of formats to match today's learner needs. LearnQuest designs, develops and delivers training on hundreds of IT topics, such as Cloud, Analytics, Big Data, Mobile, Security and Business Skills areas, including Project Management, Business Analysis and Leadership. They also maintain strategic partnerships with Apple, IBM, Microsoft, Dell, and Google, as well as the Project Management Institute and the International Institute of Business Analysis. LearnQuest was named IBM's 2016 and 2017 Worldwide Training Partner of the Year and has been repeatedly selected by TrainingIndustry.com as a Top IT Training Company and Top Workforce Development Company.
LearnQuest currently has offices in the United States, Canada, Mexico, Germany, France, Spain, Czech Republic, India, Australia, and Singapore, delivering training to customers in over 180 countries. Additionally, they are accredited by ACCET (The Accrediting Council for Continuing Education & Training), an ISO 9001:2008 certified agency and APMG-International as an IAITAM Accredited Training Organization (ATO).
About Training Industry, Inc.
Training Industry Inc. spotlights the latest news, articles, case studies and best practices within the training industry. The company publishes the Training Industry Top 20 and Training Industry Watch List reports annually, which cover a variety of sectors and interests. Their focus is on helping dedicated businesses and training professionals get the information, insights and tools needed to more effectively manage the business of learning.
Need more Information?
Speak with our training specialists to continue your learning journey.
Talk to our team