IBM and LearnQuest Badge Program - WebSphere - ODM Series
LearnQuest is working together with IBM to offer IBM training courses and award digital badges upon successful completion and attainment of course objectives.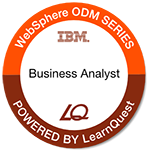 This badge holder can capture, author, validate, and manage business rules with Operational Decision Manager.
Click here for course objectives.
Badge Criteria and Activities
Badge earners have successfully achieved class objectives demonstrated by student progress in lab exercises, attendance, participation in question & answer sessions, and/or assessments associated with:
Using rule editors, Decision Center, permission management, version control, smart folders, & multiple release management
Working with rule projects, synchronizing across environments, UML notation, governance issues, decision governance, customizing vocabulary, object models, & user roles
Recommended next steps: