IBM and LearnQuest Badge Program - Content Manager Series
LearnQuest is working together with IBM to offer IBM training courses and award digital badges upon successful completion and attainment of course objectives.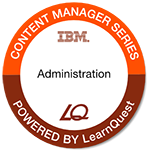 This badge holder has demonstrated how to administer an IBM FileNet Content Manager system through use-cases and architecture and has learned how to configure content storage repositories, metadata, security as well as migrating IBM FileNet P8 applications between environments, optimize search performance, and how to use the powerful sweep framework to automate administration tasks, and manage system log files.
Click here for course objectives.
Badge Criteria and Activities
Badge earners have successfully achieved class objectives demonstrated by progress in lab exercises, attendance, participation in question & answer sessions, and/or assessments associated with:
Identifying components, features, use cases;
Building Repository;
Working with metadata;
Incorporating Security;
Optimizing Search;
Migrating applications;
Auditing & logging.
Recommended next steps: