Course #: AS10G
Duration: 32 Hours
Price: 3,180.00 USD
Prices reflect a 20% discount for IBM employees
GSA Public Price: ??gsa-public-price??
GSA Private/Onsite Price: ??gsa-private-price??
For GSA pricing, go to GSA Advantage! Delivery Formats
Material: LearnGreen (pdf)
View our Global Training Schedule
Classroom Schedule
Virtual Schedule
Close
There are no virtual classes on the schedule in your country. There are no public classes currently scheduled in your country.
View our global class schedule
This course is available in private, mentoring or e-learning options.

Complete this form, and a Training Advisor will be in touch with you shortly to address your training needs.
By submitting this form, I agree to LearnQuest's Terms and Conditions
View our Global Training Schedule
??elearning-section??
Request Private Training
Close
Tell us a little about yourself:
By submitting this form, I agree to LearnQuest's Terms and Conditions
All Courses Backed by the LearnQuest 100% Satisfaction Guarantee
---
Course Description
This course teaches additional skills and techniques to programmers who can already write comprehensive RPG IV programs.
This class offers a comprehensive discussion of some of the advanced features and functions of RPG IV. This class is designed to enable an experienced RPG IV programmer to develop and maintain RPG IV programs of an advanced level using the latest features and techniques available in the IBM i RPG IV compiler.
Objectives
Use address pointers and user spaces in RPG IV programs
Write and maintain display programs using subfiles
Develop ILE modular objects and package them in service programs
Use the IBM i debugger with RPG IV programs
Explain the behavior of error handling and percolation in ILE
Code an ILE error handling program
Call application program interfaces (APIs) from RPG IV program
Use C functions in RPG IV programs
Parse XML in RPG IV programs
Audience
This course is the second in a series of two classes designed for programmers who want to learn to code using the IBM i ILE RPG IV language. Previous programming experience using RPG IV is mandatory before enrolling in this course. The student should have attended RPG IV Programming Fundamentals Workshop for IBM i (AS06G).
Previous techniques and the maintenance of programs written using legacytechniques are not covered in the classroom.
Prerequisites
You must have attended these courses (or have equivalent experience):
Introduction to IBM i for New Users (OE98G)
IBM i Technical Introduction (OL4AG)
RPG IV Programming Fundamentals Workshop for IBM i (AS06G)
You should be able to:
Use a Windows-based PC
Run PC applications using menus, icons, tool bars, and so forth
Topics
Day 1
Unit 1 - Welcome and administration
Unit 2 - Using subfile displays Exercise 1 - Inquiry subfile with search
Exercise 2 - Modularize vendor subfile search Exercise 3 - Page + 1 and PageDown Exercise 4 - Add PageUp
Exercise 5 - Add SFLPAG = SFLSIZ Exercise 6 - Add maintenance
Day 2
Unit 2 - Using subfile displays (continued)
Exercise 6 - Add maintenance (continued) Unit 3 - Using the debugger
Exercise 7 - Debugging an RPB IV program
Unit 4 - ILE error handling and condition handlers Exercise 8 - Enhancing the condition handler
Day 3
Unit 5 - Basic API programming
Exercise 9 - Using system APIs I Exercise 10 - Using system APIs II Unit 6 - Using RPG Compiler directives
Exercise 11 - Using conditional compiler directives
Unit 7 - Using pointers, user spaces, and dynamic memory Exercise 12 - Using list APIs
Day 4
Unit 8 - Using C functions
Exercise 13 - Using C IFS functions Exercise 14 - Using C library functions Unit 9 - Using XML in RPG IV
Exercise 15 - Enhancing the xml-into program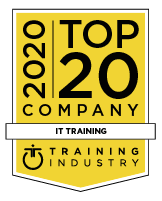 Reviews
---

We Guarantee You'll be Satisfied
At LearnQuest, our goal is always the same: to provide the highest quality training and service to each and every customer.
If you're not satisfied for any reason, simply contact one of our Training Advisors for assistance with your concerns.

Enrollment Options
Select the Training Provider you would like to use
Already have an account? Login here >


You will be leaving the LearnQuest Website
*If using Apple Training Credits or LearnPass, you must enroll with LearnQuest