IBM and LearnQuest Badge Program - QRadar
LearnQuest is working together with IBM to offer IBM training courses and award digital badges upon successful completion and attainment of course objectives.
IBM Badge Courses QRadar Series offered by LearnQuest: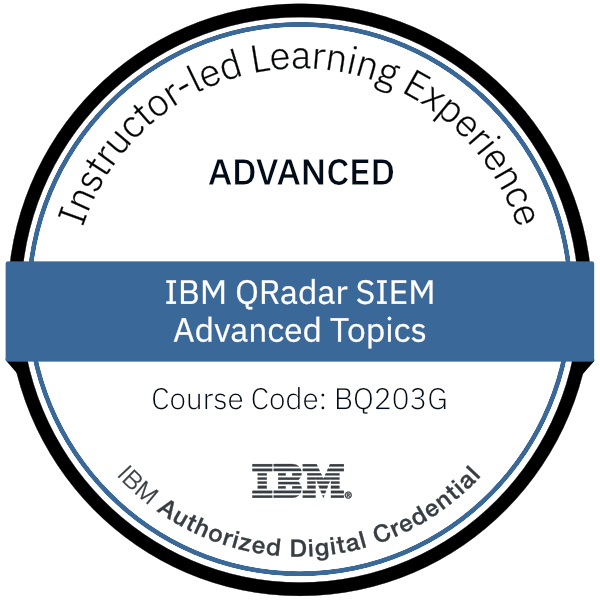 This credential earner has completed instructor-led learning for understanding how to configure processing of uncommon events, work with reference data, and develop custom rules, custom actions, and custom anomaly detection rules.
Click here for course objectives.
Badge Criteria and Activities
Successfully complete the following IBM Instructor-Led course: IBM QRadar SIEM Advanced Topics - Code: BQ203G
Recommended next steps:

Evidence:
---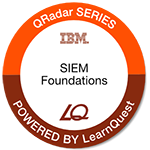 This badge holder understands how to use QRadar SIEM to provide deep visibility into network, user, and application activity. They understand collection, normalization, correlation, and secure storage of events, flows, asset profiles, and vulnerabilities. The recipient is also able to classify suspected attacks and policy violations as offenses.
Click here for course objectives.
Badge Criteria and Activities
During a LearnQuest delivered course, badge earners have successfully achieved class objectives demonstrated by student progress in lab exercises, attendance, participation in question & answer sessions, and/or assessments associated with:
Describing the QRadar architecture & how it collects data
Navigating & customizing dashboards & the user interface
Investigating suspected attacks, policy violations, events, flows & asset profiles
Using filters, AQL, index & aggregated data management
Recommended next steps:

Evidence:
---